As experienced Gridders quickly learn, grids can be used to capture a vast array of organizational knowledge – from structured methodologies and professional service propositions through to staff on-boarding and training programmes and everything in between. 
We are constantly amazed and impressed at the variety of intellectual property (and value!) that is created. 
One such use case – that this blog focuses on – is that of the structured training library concept. 
To support such grids, we have now added another example element template to your element template library (see Resources > Element templates): Example Lesson Plan Template.
This template represents the best practice capture of a lesson plan, or a module within such a structured training syllabus. Of course, you can modify this template further (e.g. to add specific media examples – video record of perfect lesson?) but this template serves as a great starting point.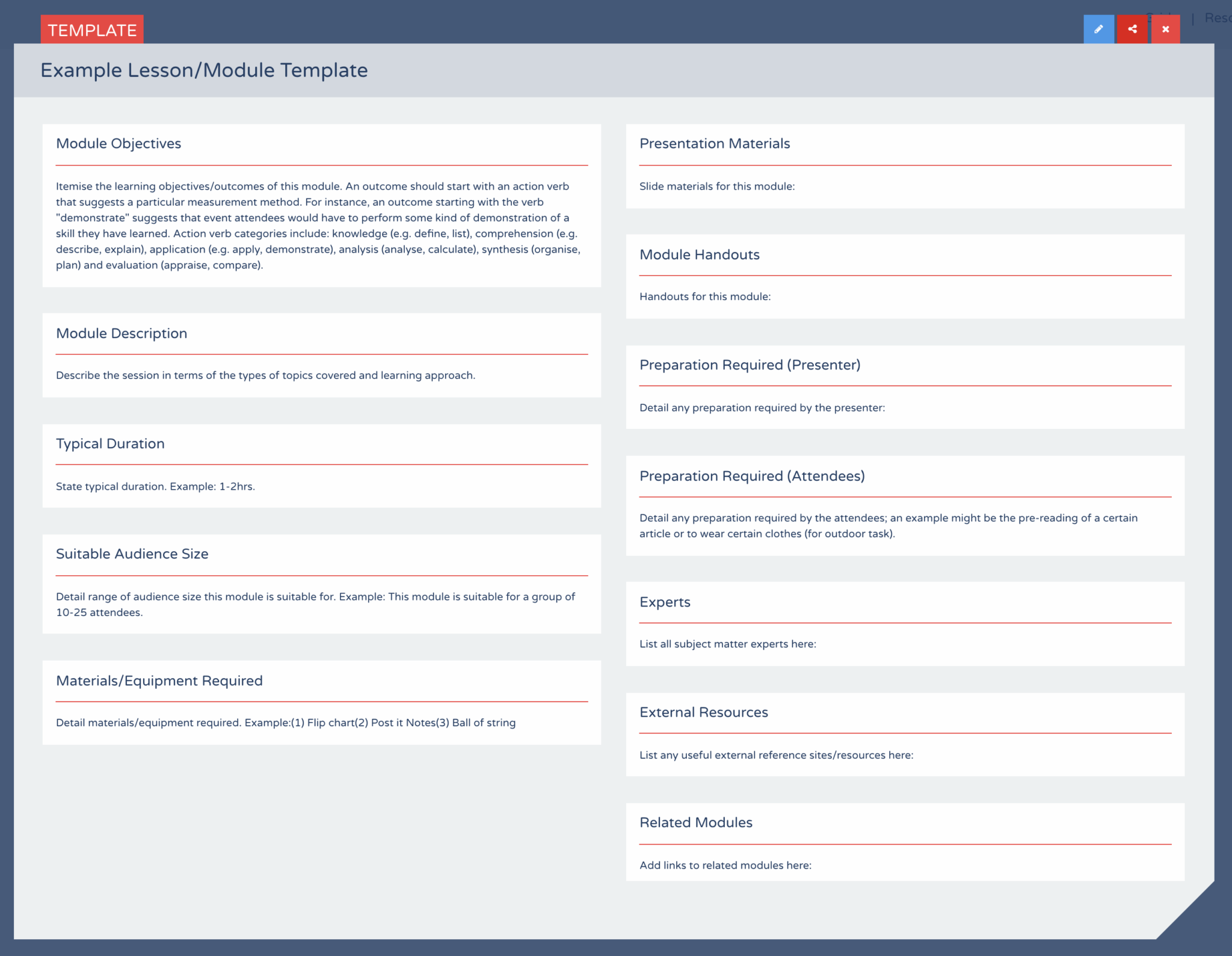 New lesson plan element template available
Where are we seeing lesson plan templates being used?
There are two primary types of organizations deploying this type of grid. 
Firstly, there are a number of academic users; for example, University business schools. We observe this type of user building out master grids containing all possible lesson module options (often in grids that use the stage/theme logic to denote the different types of lesson module e.g. presented by subject area and competence/level categorization). This (superset) master repository can then be quickly cloned-and-tailored to create a (subset) training syllabus for a specific course delivery.
Secondly, in corporate settings, we observe a number of businesses who offer training or workshop type offerings to their end-clients. In this scenario, the firm's full inventory of module offerings is presented within a single grid and, most powerfully, used as a sales enabler (in addition to being a great resource for the expert trainers themselves). 
By example, a US-based high-performing team specialist uses Method Grid in prospect engagement meetings (looks beautiful on the iPad) to co-create the actual design of a multi-day package with their prospect client. Their master grid contains all potential module options (colour coded with a must-do through to nice-to-do logic) and their elements show off past delivery (e.g. embedded videos of high-performing team exercises in actions). This allows them to show-off their expertise and to involve prospect clients in the bespoke co-creation of the specific package they require (easily facilitated in live conversation).