Two distinct activities - The simple-tactical - The tough-strategic - Why you need an Enterprise Methodology Platform (EMP) - Hygiene and health
In a previous blog, in a series on knowledge management (KM), I outlined a set of eight illustrative practical levers (i.e. ideas, practices, tools) that can bring your KM Strategy to life. This week's blog examines another key aspect of knowledge sharing: the development and curation of your firm's knowledge repositories.
Eight illustrative knowledge management levers
Lever 02: Run regular knowledge fairs
Lever 03: Develop a who-knows-what directory
Lever 04: Systematic development of your intellectual property (IP)
Lever 05: Develop and curate your knowledge repositories – tactical/strategic
Lever 06: Organizational learning and aligning your KM and HR strategies
Lever 07: Undertake regular KM audits
Lever 08: Regular staff communication
Lever 05: Develop and curate your knowledge repositories – tactical/strategic
Whilst I have been at pains to emphasize the importance of oiling the people-to-people knowledge sharing challenge inherent in any professional service organization, a comprehensive KM strategy should also address the people-to-artefact (files, tools, templates etc.) aspect also.
These two dimensions (as emphasised in the bringing a knowledge management strategy to life blog) are not mutually exclusive.
The point I want to emphasise here is that there are two very distinct activities involved in knowledge-based, digital curation. When it comes to developing and curating knowledge repositories, to facilitate the knowledge sharing of digital material especially, you need to address both the simple-tactical and the tough-strategic sides of this coin.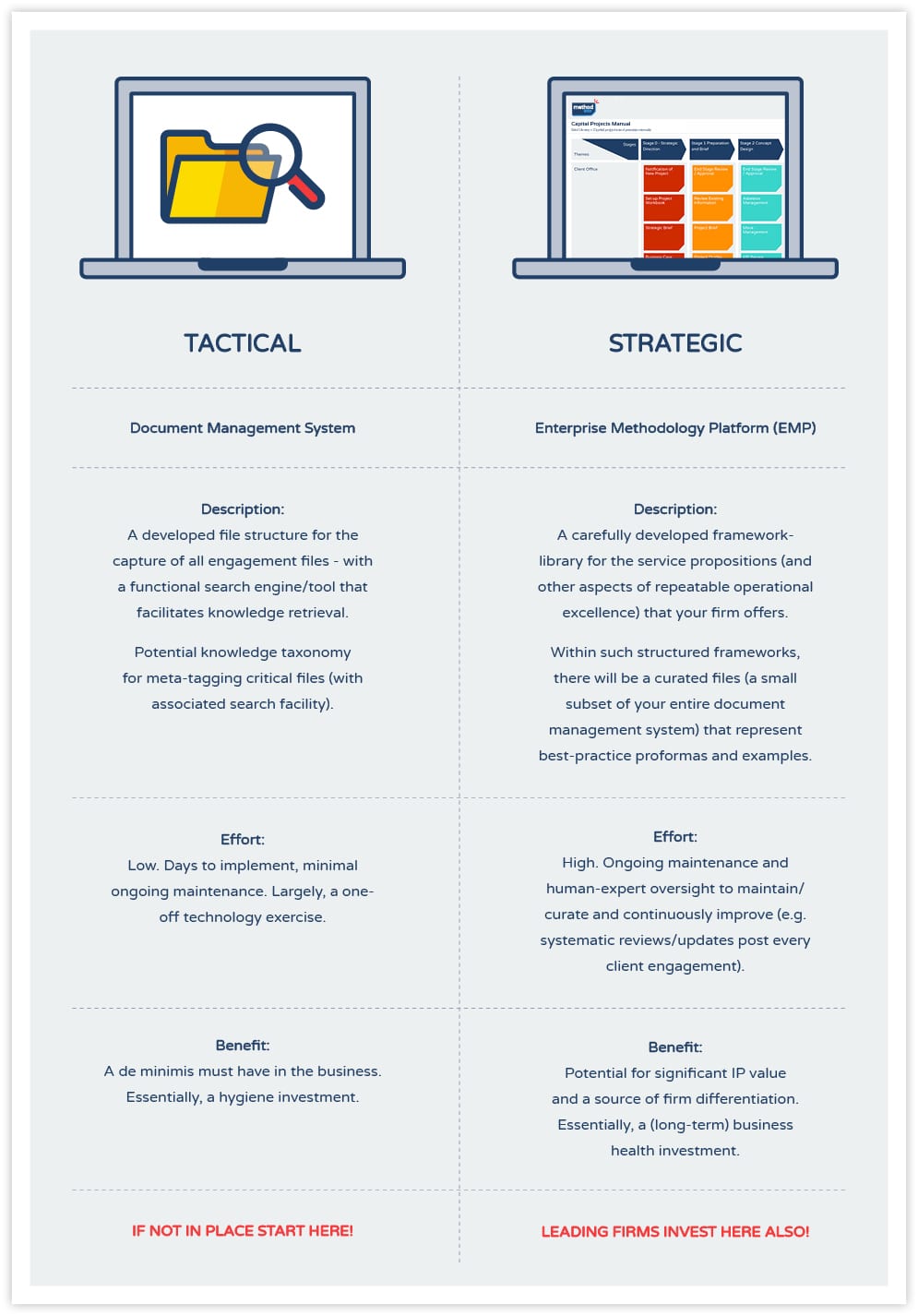 Figure: Knowledge Repositories (Tactical and Strategic Initiatives)
These two aspects are, often, very poorly understood by knowledge managers/teams early in the journey of building out a KM capability.
In terms of a logical order of ambition, the suggested approach is simple.
If you do not have in place a (tactical) knowledge sharing repository – a solution whereby your team can quickly search and retrieve artefacts across your entire library (previous client engagements especially) then START HERE!
This is such a necessary de minimis starting point that there is little point distracting your focus elsewhere until this core layer of functionality is in place. Everyone in your team should be able to access a centralised knowledge repository and – effortlessly – search for filed digital content.
The user experience of this (navigation and search) will be greatly impacted by such aspects as the file structure hierarchy (worth very considered thought), the design of any knowledge taxonomy (as used to meta-tag key items) and the search engine/app itself (there are many powerful solutions on the market now – so take your time to evaluate what works best).
Knowledge sharing via an enterprise methodology platform (EMP)
Once this is in place – and we really are talking about something that can be implemented in a few days/weeks here – your ambition should turn to the more strategic dimension of this knowledge sharing challenge: the development of an enterprise methodology platform.
This is a very different proposition altogether.
Building out a strategic knowledge repository on an enterprise methodology platform (such as Method Grid) requires a far greater collaborative, team effort. The best minds in your business will need to engage in the intellectual activity of designing the methodological or process structure, developing high-quality repeatable materials and quality-selecting-filtering the materials that come into this domain (typically < 5% of what exists in your entire file system).
This is not a one-off exercise. Rather the activity of curating this form of knowledge sharing repository is never-ending; regular reviews (either post engagement or periodic-scheduled) should ensure such an asset is continuously improving to reflect your team's real-world experiential learning. Stepping out on this path, therefore, is not for the faint-hearted. For larger corporates you will need deliberate, committed leadership – leaders prepared to personally champion such an initiative, corral whole-firm collaboration and ensure that its dynamic-maintenance is wired into the DNA of the business.
So, very high effort required!
But, the rewards are commensurate.
Businesses that have traversed the tactical, hygiene stage (easily searchable document management system in place) and move to establishing a structured, curated "how we do our business" library on an enterprise methodology platform move to another level altogether.
These are the firms that attract and induct new joiners more efficiently, who deliver high-quality work more consistently and who win more work (through evidential demonstration of expertise).
These are also the firms that have taken knowledge sharing to a strategic level – as such an investment provides a potent, centralised reference point towards which conversations of technical competence can be addressed. After all, "continuous improvement" is somewhat of a sound bite if there is no common, well-understood system/repository to actually improve!
This form of knowledge repository also allows for a far more considered capture of expertise within a company – subject-matter experts can be dynamically-assigned to process areas or, at the most granular level, to specific steps/aspects of your firm's technical specialism. As such, this form of knowledge repository will bring high benefit with respect to the knowledge-based connections it facilitates.
In summary, investing in the strategic side of this coin, once the tactical element is in place, will ensure you start to build out one of the most valuable IP assets a professional service firm can ever own.
So, there you have it; hopefully some food for thought with respect to how your KM team (see Lever 01) can facilitate knowledge sharing in your firm through an investment in both tactical and strategic knowledge repositories.  
---
So, what's next?
Next week, I will continue this sub-series on knowledge management by detailing Lever 06 (organizational learning and aligning your KM and HR strategies) – one of a number of illustrative practical levers (ideas, initiatives, tools etc) that can bring a knowledge management strategy to life.
Hopefully, you'll join us on this journey. It's totally free, and you don't have to be a Method Grid customer (though you're more than welcome to sign up – it's also free!).
We'll be releasing a new post each week. To get each post emailed to you as soon as it's published, sign up for the Climbing Mount Audacity mailing list below.
Climbing Mount Audacity…

From
Startup
to
Scaleup
!
We're sharing everything we know about how to build an awesome professional service firm (and enjoy the journey en route!) PLUS travel updates, reflections on our stumbles and general musings on our Method Grid journey.
Signup below to get the latest articles
direct to your inbox.
See you next week. Have something you want to hear more about? Let me know in the comments below or via Twitter.