As described in the first blog of this series, from our earliest days here at Method Grid HQ, we recognised that the more we used our own solution (took our own medicine) the better we would understand the feedback we received from our user community.
It is probably fair to say in the early days that this was a somewhat forced, contrived behaviour i.e. we were using the solution to handle aspects it was not optimised for. Now, however, we can hand-on-heart say that we would really struggle to run our business – and connect our team – without own own application at the heart of it.
In this Art of Gridding blog series, therefore, the aim is to describe the multiple ways we use the solution – with the hope that it initiates further ideas as to how you can derive even greater value from your own accounts.
Note. At our recent 2020 User Community Symposium, our Customer Success Lead, Jody, walked everyone through a number of these aspects – a recording of this session can be found here.
How we use Method Grid …. here at Method Grid HQ
By way of a series summary thus far – we use Method Grid for (at least) the following:
Staff Induction (Induction playbook)
Team Summit agenda planning (Event grid)
Sales Playbook (Capability playbook)
Repetitive monthly process (e.g. month-end financial close) (Procedural elements)
Marketing Initiatives (Kanban board)
You can read the previous example blogs via the links above.
This latest example focuses on …
06 Staff Induction (Induction playbook)
The Method Grid team is growing.
For example, we recently hired a new Commercial Lead: Oli.
How did we onboard Oli?
Physician heal thyself.
We used a staff induction grid – with themes based on general introduction topics as well as the key aspects of the job description. Each element represents an information/training module – with assigned colleague leads. Over his early weeks, this grid provided the structure for Oli's rapid ramp into the business; again, with clear visual indication keeping us all honest to his progress.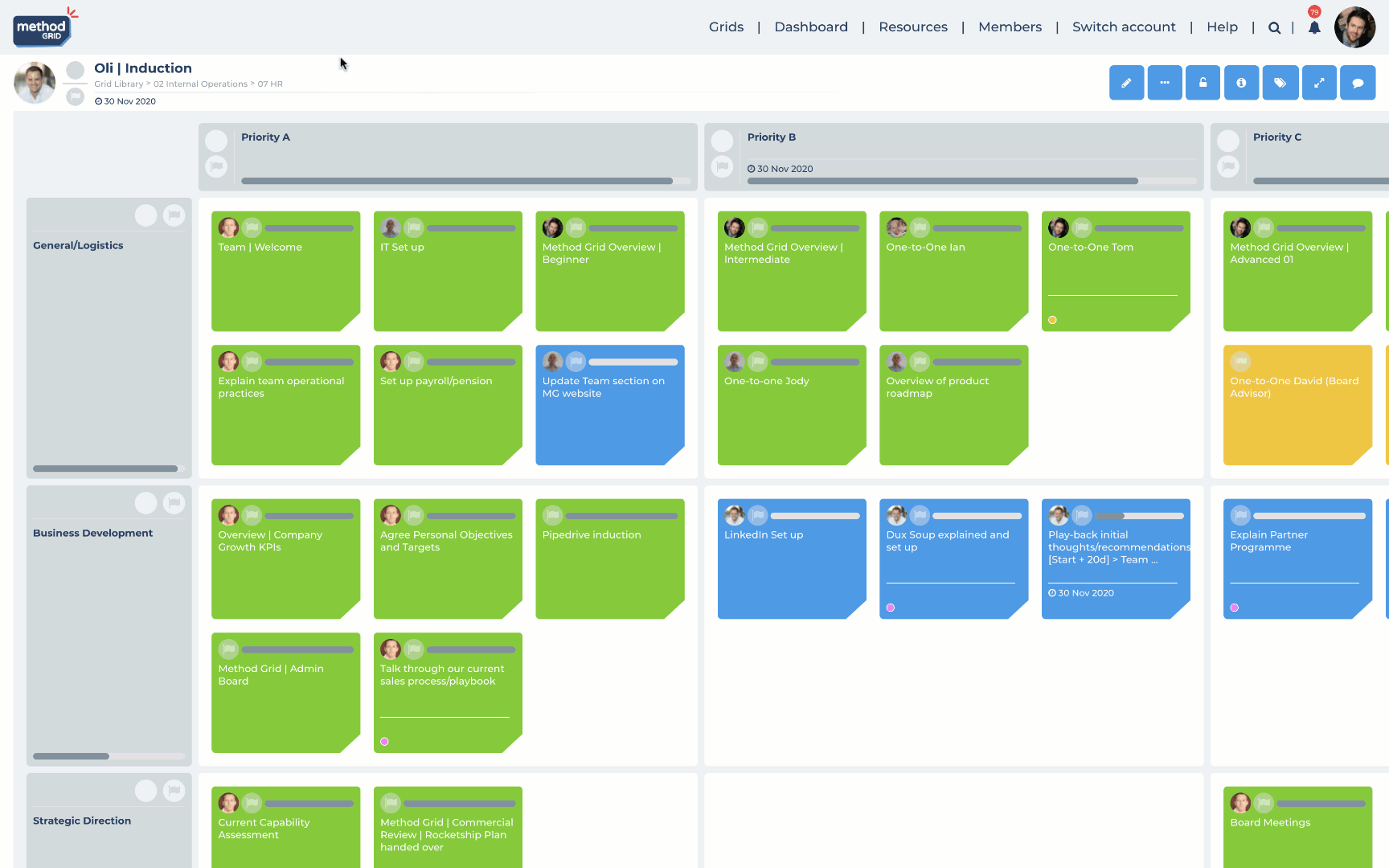 The core benefit of this application is the mutual sense (team and Oli) of a thorough, professional experience and , of course, getting Oli to productive status as fast as possible.
The corollary benefit is that we know for all future hires, 80% of this grid's captured structure and resource (embedded presentations/notes etc.) is replicable.
Indeed, with every new hire we make our induction process improves and deepens further – as it is so easy to build upon the pre-existing induction "master" grids. For each new hire, we simply clone a new induction grid and make minor modification for the specific job role in question – allowing us to systemise the critical onboarding experience.
If this is an area of interest for you – the following links may be helpful also:
Staff Induction Case Study – Perpetual
Next up in the series … we will look at 07. Team Summit Agenda Planning
---
So there you have it.
Another example of our core use case scenarios.
We are clearly at the more mature end of solution use (indeed, we were the platform's first ever users!) but, hopefully, this gives a flavour of the breadth of benefits that can be derived once the intuitive (connected team) features are fully harnessed.
Hopefully, this series has given you one or two new examples.
As always, we love hearing about all such innovative grids and real-world user stories so please just drop us a line if you would like to feature in a future "Art of Gridding" blog.
Happy gridding.