Why this matters …
Let's agree at the outset that senior executives don't always understand what project, programme and portfolio management is.
Some would argue that they need the same technical knowledge and skills as the team delivering the project.  Others would argue – fairly – that they just need to know how to fulfil the senior accountable role that projects and programmes demand – and to provide issue-resolution support as/when required.
Whatever your opinion on the matter – we can all agree that getting the right information, at the right time to accountable decision makers is a paramount component of decision-making tempo and, ultimately, delivery success.
The prize …
In a previous blog: Do you deliver ALL your AEC projects to a consistent high standard?, we talked about a senior leader in an AEC firm dreading the phone call that informs of a project that has gone drastically wrong.
In this context, P3M (project-programme-portfolio management) oversight is a must-have capability for capital projects – as necessary for project teams and executive management to take corrective, risk-mitigating actions ahead of such moments.
By providing your executive with the real-time information and insights they need, you replace reactive-but-too-late scenarios with proactive-course-correction.
How we can help
When a rigorous executive oversight capability is introduced, the certainty of P3M-related outcomes increases as does the related confidence of your overall delivery team.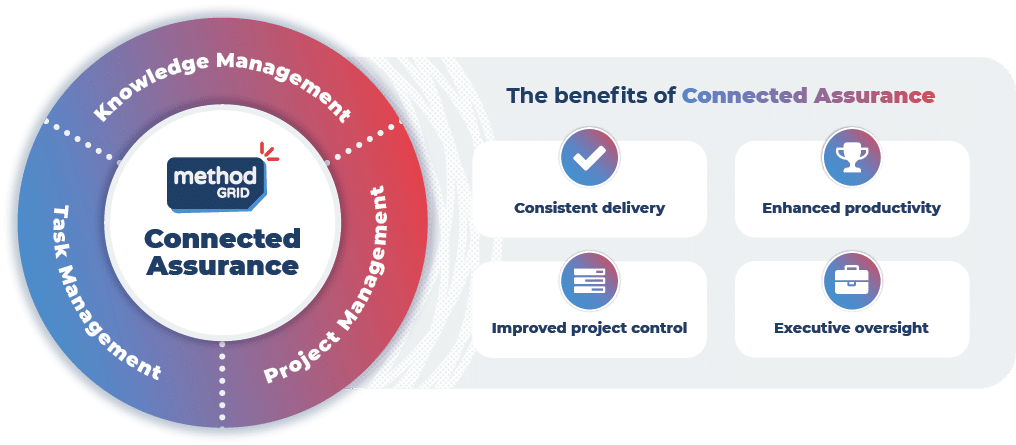 Method Grid is a unique platform, designed for AEC companies, that integrates the core features of: knowledge/project/task and audit management.  We call this amalgamated practice: connected assurance. Our professional service team works with client counterparts to build out your company's service frameworks/toolbox (as based on our library of industry best-practice also) and to support the embedment of an enhanced connected assurance capability generally.
 Our highly configurable reporting dashboards allow busy AEC professionals to easily access the key information and insights they need.  Whether it's a detailed checkpoint report for your project management team, or a portfolio overview for your executive leadership, the platform has it covered.