Hofstadter's Law: It always takes longer than you expect, even when you take into account Hofstadter's Law.
Phew! We did it.
So, a year and eight months after the conceptual "twinkle in eye" (see first concept discussion captured on our team whiteboard) … we have now released BETA v3 (a public BETA version).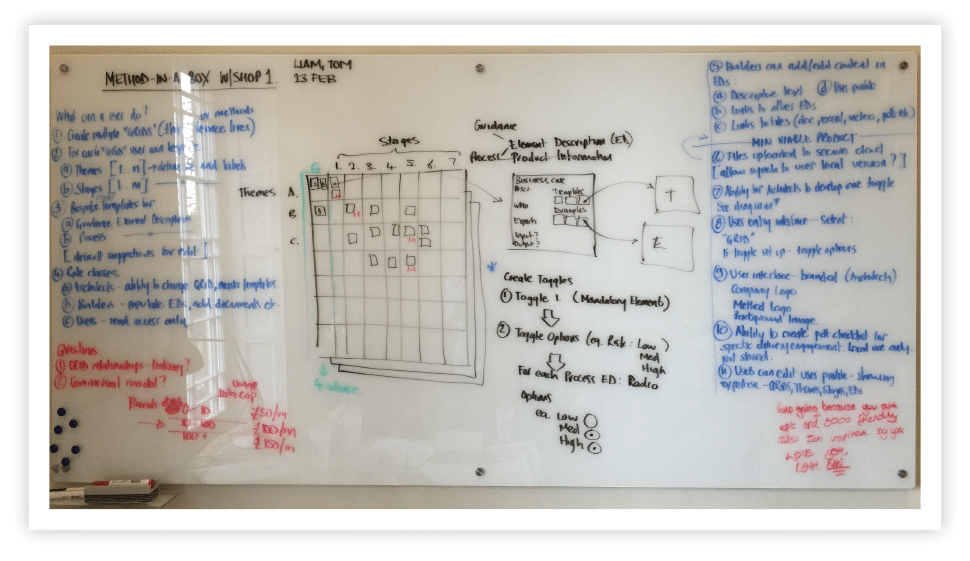 Method Grid Concept Discussion | 23 February 2016
We are duly proud of this achievement; not least because it is the product of many, many hours of hard team toil – but – also because it is the result of thousands of conversations with actual real-world users. Simply put, we know we have only arrived at this point as a function of our awesome (private) beta community.
Such a journey has some emotional moments. Looking back, our BETA v1 (December 2016) was a valid first attempt at bringing the concept to life but, with honest hindsight, our design really sucked. It was our (then) small band of private beta users who gave us that raw truth. Honestly, we were close to putting our fingers in our ears at that point … the psychological trap of ignoring reality/data when you have invested so much time/energy into a product (= cognitive dissonance) well and truly nearly killed us. At this early nadir moment, however, we made the right call. Spring 2017 involved taking it all right back to the drawing board and starting again with a completely new design and approach. The result BETA v2 (July 2017) was a pivotal moment and our beta users thanked us for it. Crucially, the dialogue changed from "too difficult to use" to "now an intuitive product … what about adding feature X, Y and Z".
And so, to this day when we can unveil BETA v3 with many of those requested new features also on board: image/video content areas, sign-up simplified, profile image editor, grid/element colour labelling and early customisation options. Our private beta users are now telling us that we have a MVP but, to really validate this opinion (and to hear more great suggestions for continuous improvement) we are opening the product up to a public beta trial. You can read more about what this all means here.
So what do we have in store for future product release features? Truth be told, the idea stack is overflowing (notwithstanding: please keep the suggestions coming!) but see below for a flavour of what we will be working on in the coming months:
Access-configurable sub grid libraries (e.g. allowing consulting teams to build controlled areas for client team access also).
---
Ability to export all content out into a format readable outside Method Grid platform
---
Development of
Method Grid
store concept (ultimately, allowing gridders to promote and sell their grids)
---
Improved formatting options for text content areas in elements
---
Search functionality
---
Linked files open in preview mode (cf. downloads)
---
Ability to produce grid images (for presentations)
---
Richer optionality with respect to member's profile pages
---
Etc.
So, whilst we may be out of the foothills, there is still a fairly intimidating mountain ahead!
Is there a feature you would love to see us add to our development stack? If so, please let us know in the comments below or via our contact form