In our latest release, we have updated your tasks dashboard and task logs (at the grid and element level), to include the new task statuses and RAG ratings. This update includes some key changes to the layout of the filters within your tasks dashboard and logs, these are detailed below.
Please note that all your existing filter bookmarks will continue to work as before.
Task Status
Previously, the task status column was a simple list to filter tasks by the status of open, overdue or complete. This has now been updated to allow you to filter by the new task statuses of:
Not started
In progress
On hold
Complete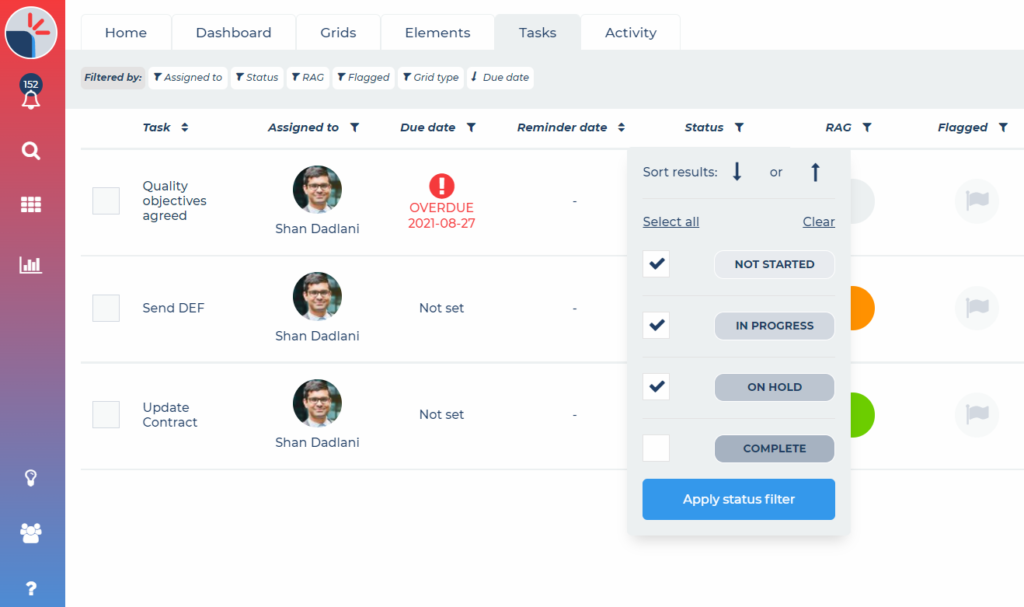 The previous status filters can now be set using the new statuses:
Open = Select all statuses except complete (this is the default filter set for task statuses i.e. show all open tasks)
Overdue = This can now be filtered in the due date column (see below)
Complete = Select only the complete status (task is complete)
Task Due Date
The due date column now also contains your overdue tasks and it includes two new filters:
Overdue – toggles whether to include overdue tasks in your filter (this is toggled on by default)
No due date – toggles whether to include tasks with no due date in your filter (this is toggled on by default)
The existing from/to due date filter is unchanged.