From the earliest days of beta testing, we have always felt truly blessed with the user community that has joined us on the journey.
The active dialogue with our client users – the general feedback, new feature suggestions and the vivid descriptions of how the solution is being applied in real-world situations – has always been the energy source for our ongoing, continuous improvement roadmap. As importantly, it has helped shaped our audacious vision: to build the world's leading cloud platform where you can build knowledge as you manage projects.
The recent 2020 User Community Symposium was a fantastic example of the vibrancy of this user base – the multiple case-studies shared across a variety of different industries and companies – was hugely idea stimulating for all participants (even for the Method Grid HQ team – who would see themselves as power users!).
This latest release recognises this fantastic community and seeks to enable it yet further – with the introduction of an integrated, online Method Grid Community platform into the main application.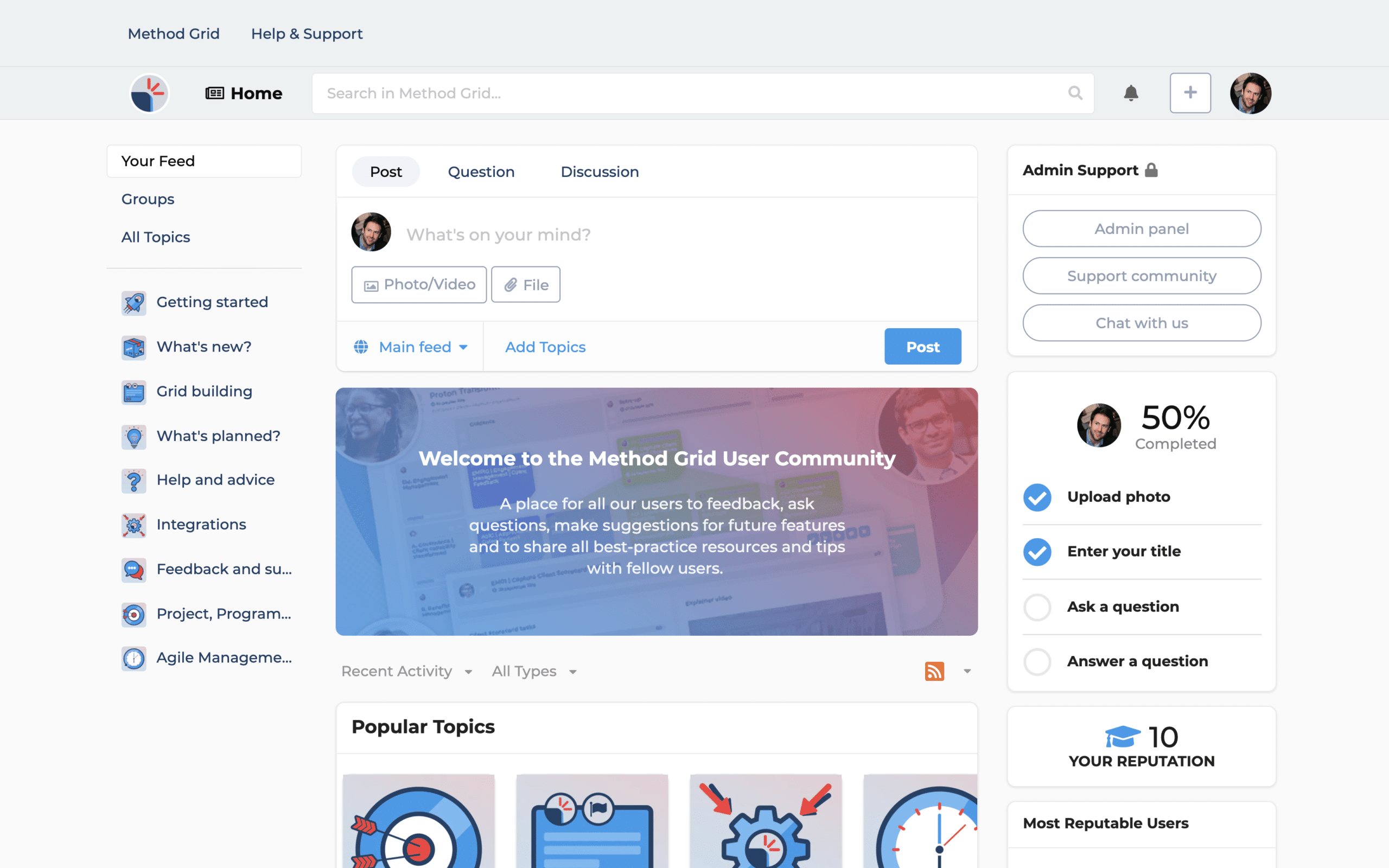 What is the purpose of this community platform?
The purpose of the Method Grid Community platform is to further enable, and integrate, our fantastic user base and to provide a social dimension to this growing conversation.
We seek for it to be a place where you can explore ideas and case studies, ask questions of fellow users, start discussions, upvote, comment and share multiple types of content.
Fundamentally, we aim for it to be a place that (a) further connects the user voice with our future development strategy and plans and (b) helps every user maximise the benefit they can derive from their own account – through the sharing of ideas, tips and practical examples with others.
How do I get value from the community – what can I do in the platform?
The platform is based around discussion topics and groups (public and private). 
Within these sections, you can post a question (or answer someone else's), upvote another user's question, contribute to a poll or start/contribute to a discussion thread.
You can choose to "follow" discussion threads of most interest to yourself – essentially to personalise your own version of the platform. By example, initial discussion groups have been set up for:
Getting started
What's new?
Grid building
What's planned?
Help and advice
Integrations
Feedback and suggestions
Project, Programme and Portfolio Management
Agile Management
We plan also to add relevant user groups over time; for example, groups for: "Professional Service Firm", "Engineering and Construction" etc. These areas will be tailored for relevant discussions per industry application; for example, a place for consulting firm users to discuss how Method Grid is being used to help win bid pitches, as a service delivery platform and to commercialise IP in practice. Please feel free to suggest additional groups for us to add in the future.
Example discussion post
Please also note that you gain points for engagement with the platform – as displayed on the members' leaderboard. We will have some fun with this in the future – with prize incentives and rewards for the most helpful members of the community.