The knowledge within your organisation is only useful if your team can find it, make sense of it and use it in a timely manner. Method Grid is the key to improving this efficiency of understanding.
To help your team find the information they need quickly and efficiently we have improved the way you search your Method Grid account. Here are the highlights:
We have improved the way Method Grid searches giving you much more relevant and accurate results
You can also now set your preference for the way search works for you
You can now search for comments across your account
You can now search for files across your account including uploaded files, file links, files relating to tasks and file links to SharePoint, Google Drive, Box etc.
Improved Search Results
When you search Method Grid, you will see results from all the knowledge touch points across Method Grid: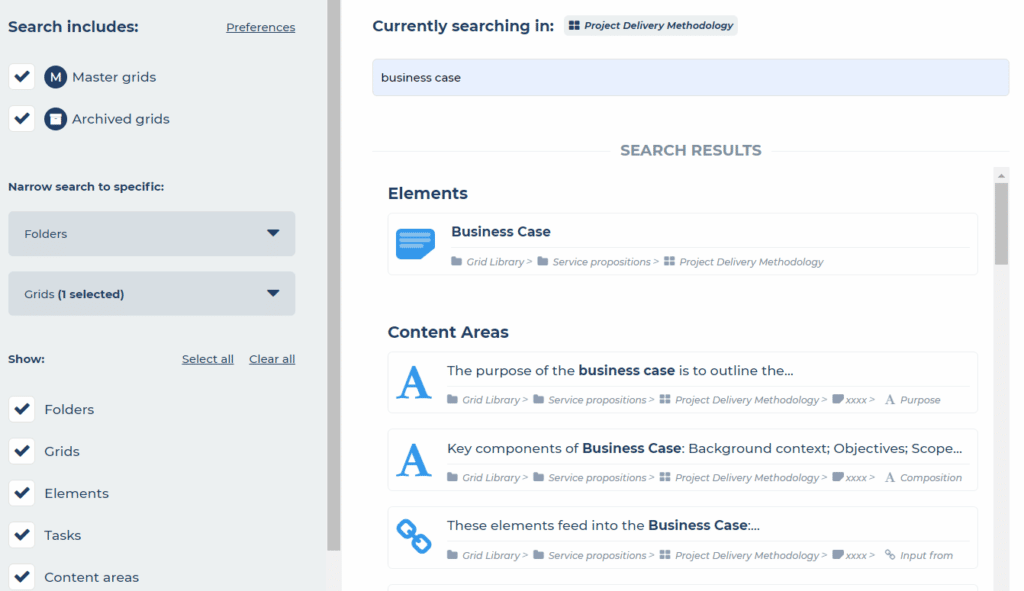 Folders – how you organise your grids
Grids – your project deliveries, processes and structured methodologies
Elements – the knowledge containers and work packages within your grids
Tasks – your project/process tasks
Content areas – the knowledge within your elements
Files – any files or file links anywhere within your account
Comments – any comments anywhere within your account
Members – the team members within your account
Templates – element templates you have created
Your search results are split by the categories above to make it easier to narrow down to the specific knowledge touch point you need. Each category and knowledge touchpoint also has a unique icon to help you scan through your search results.
You can narrow down by simply scrolling through the results by category or you can select which category of results to show (your last choice of category to show will be remembered for the next time you search).
You can also narrow down your searches to only search within specific folders or grids. By default, when you are viewing a folder or a grid and you trigger a search, Method Grid will automatically narrow down your search to that folder or grid. You can change this behaviour in your search preferences (see below).
By default we include master grids and archived grids in your search results. To exclude these from your search, simply untick them as desired. Your last choice of filters will be remembered for the next time you search.
Your Search Preferences
You can now configure your search preferences to best match the way you like to search across Method Grid: